Dr. Christine Tang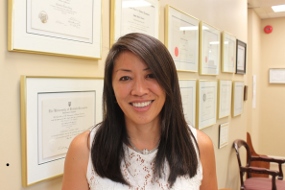 After completing medical school at the University of British Columbia, Dr. Tang completed a 5 year residency program in Plastic Surgery at the University of Toronto.  Following her residency, she did extra training to subspecialize in cancer and breast reconstruction surgery at Women's College Hospital in Toronto.  Dr. Tang also has a Bachelors degree in honours physiology, and a Masters of Science in physiology, both from the University of British Columbia.  She was fortunate to have collaborated with Dr. Michael Drever, a pioneer and world-renowned surgeon in breast reconstruction, for 2 years.  Dr. Tang has been in practice since 1998 at William Osler Health System, Etobicoke General Hospital.  Her practise includes cosmetic surgery, breast surgery, skin cancer surgery, hand surgery and general plastic surgery.  In her own words, she says "I love my job and look forward to work every day.  Why?  Because my staff and the nurses at the hospital are a joy to work with.  Surgery is always interesting and fun.  It is technical, exacting and artistic.  In plastic surgery, we have the unusual benefit of being able to realize immediate results.  My patients are great.  They come from all different walks of life and have interesting stories and backgrounds.  I feel very fortunate to be able to do what I do."
Dr. Tang is certified by: The Royal College of Physicians and Surgeons of Canada – An organization of medical specialists dedicated to ensuring the highest standards and quality of health care.
Dr. Tang is a Royal College certified Plastic Surgeon. A Plastic Surgeon is a medical doctor who has done at least 5 years of extra surgical training in Plastic surgery. Please not the difference between a plastic surgeon and a "cosmetic surgeon". A "cosmetic surgeon" is not a Royal College of Physician and Surgeons certification.  It is a name for any doctor that performs cosmetic surgery. This doctor can be a family doctor, a dermatologist (skin doctor), a general surgeon, an otolarygologist (ear, nose and throat, ENT doctor) or a plastic surgeon. To be a cosmetic surgeon does not necessarily mean the doctor has done any extra specialized training in plastic surgery.  Only plastic surgeons have done a minimum of 5 years of extra training in plastic surgery. Dr. Tang is a plastic surgeon, who does reconstructive plastic surgery and cosmetic surgery.
Rozana
Rozana has been with Dr. Tang since she first started her practice in 1999. She has a degree in Marketing. She is also an experienced medical secretary. She organizes Dr. Tang's practice. She is here to address your concerns and book your appointments. Rozana speaks Italian, Croation and English. She strives to provide a friendly, comfortable and efficient experience for you.
.